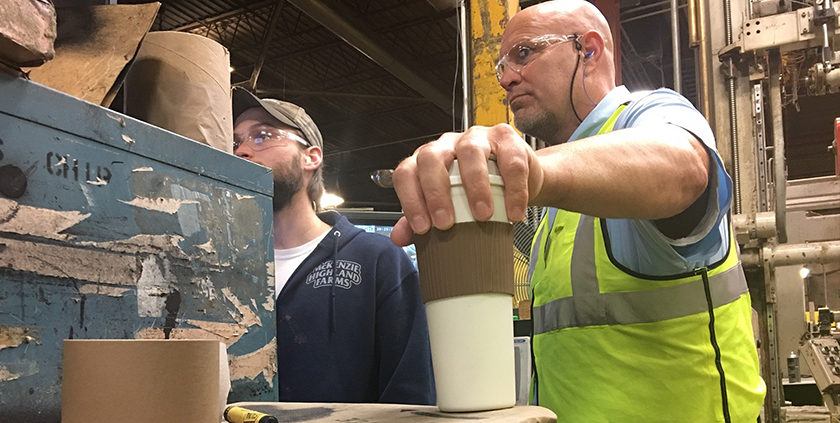 Constantine, MI  –  OX Paperboard threw the switch on MillTools at their mill in Constantine, Michigan on April 24, 2017 to manage their manufacturing process, increase efficiency, reduce costs and improve communication internally and with customers.
Panther Systems' Go Live Team was present as OX Michigan turned up its first reels and trimmed rolls of paperboard on the new system. The team lead by Support Services Manager Mark Schmidt were present to support and coach OX's core team and users in the front office, lab, winding station and scale areas as well as the warehouse, loading docks and shipping office to make the smooth transition to MillTools.
The addition of MillTools helps OX's office team create mill orders and schedule production against customer purchase orders, simultaneously sending properly branded customer communication in one easy step. This manufacturing execution system (MES) receives paper quality data from Panther's machine and quality control systems; these systems were already online at the mill.
OX team members can turn up new reels and give backtenders information and instructions to increase productivity and reduce waste, while producing rolls against a paperless schedule of patterns inside MillTools. Roll data is applied to actuals, and MillTools generates TAPPI numbers and labels to create trackable shipping units. Users are able to move, locate and reconcile inventory at a glance.
MillTools provides powerful tools to plan loads and ship products to customers, creating a certificate of analysis and manifest. The office team can invoice, issue credit memos and interface with OX's existing accounting software.
"MillTools now gives the folks here at OX Michigan greater visibility, control and reporting of process and products than ever before," said Dan Schott, a Panther representative and member of the the company's Go Live Team. "OX Michigan is already benefiting from the mill-configurable capabilities of this powerful suite of applications. The first daily production report from the system was impressive, and users from the front office to the mill floor on over to shipping echoed commentary like, 'That's less work than what we were doing before Panther went live.'"
OX Paperboard uses MillTools at mills in Pekin, Illinois and Constantine, Michigan. MillTools will go live at the company's mill in Halltown, West Virginia in May 2017.
Established in 1993, Panther Systems is heralded by pulp and paper experts as the leading provider of manufacturing intelligence solutions. Based in Vancouver, Washington, Panther Systems is known for MillTools, a suite of powerful purpose-specific software tools, used throughout the pulp and paper industry to manage orders and track products from office to mill floor to loading dock. The company's other offerings include TestCentral and ProcessAnalyzer for paper laboratories, Panther QCS and Panther Dashboards. Visit panthersys.com for information or call 360-750-9783.
http://www.panthersys.com/wp-content/uploads/2017/06/Ox-Constantine-Go-Live-01.jpg
450
840
Dan Schott
http://www.panthersys.com/wp-content/uploads/2017/07/enfold-panther-logo-gray-v3-270x90.png
Dan Schott
2017-04-24 12:50:45
2017-08-01 09:57:31
MillTools goes live at OX Paperboard Michigan